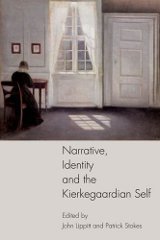 Edited by John Lippitt and Patrick Stokes
Released May 2015- pre-order at Edinburgh University Press and Amazon
Is each of us the main character in a story we tell about ourselves, or is this narrative understanding of selfhood misguided and possibly harmful? Are selves and persons the same thing? And what does the possibility of sudden death mean for our ability to understand the narrative of ourselves?
These questions have been much discussed both in recent philosophy and by scholars grappling with the work of the enigmatic 19th-century thinker Søren Kierkegaard. For the first time, this collection brings together figures in both contemporary philosophy and Kierkegaard studies to explore pressing issues in the philosophy of personal identity and moral psychology. It serves both to advance important ongoing discussions of selfhood and to explore the light that, 200 years after his birth, Kierkegaard is still able to shed on contemporary problems.
Contributors: Roman Altshuler, Kathy Behrendt, Matias Møl Dalsgaard, John J. Davenport, Eleanor Helms, John Lippitt, George Pattison, Anthony Rudd, Michael J. Sigrist, Marya Schechtman, Patrick Stokes, Michael Strawser, and Walter Wietzke.
"Are our lives enacted dramatic narratives? Did Kierkegaard understand human existence in these terms? Anyone grappling with these two questions will find in these excellent essays a remarkable catalogue of insights and arguments to be reckoned with in giving an answer. That is no small achievement." – Professor Alasdair MacIntyre, University of Notre Dame

"This wonderful collection tackles the issue of who I am and where I'm going (if anywhere), and the place of telling my story in forming my identity. It opens new vistas on this philosophical concern, drawing on MacIntyre, Taylor and Frankfurt, and centrally, Kierkegaard – a virtuoso explorer of this terrain."- Edward F. Mooney, Professor Emeritus, Syracuse University